Perpeloncoan / OSPEK merupakan kegiatan yang lazim dilakukan oleh beberapa Universitas di seluruh dunia sebagai bentuk orientasi bagi para mahasiswa/i baru. Namun apa yang terjadi jika kegiatan tersebut ternyata menyimpang menjadi kegiatan Perpeloncoan paling menakutkan di dunia oleh beberapa oknum mahasiswa senior biadab di lingkungan kampus tersebut
Screamed by a Sharpie Marker:

Pada tahun 2002, pemain Seven Football suatu College di North Carolina , Antonio Wilkerson ditangkap atas tuduhan Perpeloncoan yang tidak wajar yaitu dengan cara menulis dengan spidol permanen Nama dan Posisi beberapa calon anggota baru eskul Seven Footbal di kampus tersebut tepat di bokongnya . Bagian terburuk adalah bahwa perpeloncoan ini sudah lazim dilakukan di kampus tersebut sebagai syarat mutlak penerimaan calon anggota baru . Kabar baiknya , pada tahun 2002 , Kegiatan perpeloncoan ini sudah tidak dilakukan lagi.
Dildo or Cocaine ?

Sungguh aneh kegiatan salah satu perpeloncoan di suatu Genk Mahasiswi di salah satu universitas swasta di chichago. Jadi calon anggota baru geng tersebut diharuskan untuk memilih antara Memainkan Adegan Striptease dengan menggunakan Dildo di Halaman kampus, atau memakai Narkoba jenis Cocaine di toilet kampus.
Boiling in the Hot Water:

Di Tulane University, ada suatu ritual perpeloncoan yang sangat menakutkan bagi para mahasiswa baru yang ingin masuk ke dalam suatu Genk yang paling berkuasa di kampus tersebut, bagaimana tidak cara perpeloncoannya adalah dengan cara mencelupkan tangan dari calon anggota baru diatas rebusan air mendidih kepiting dan perasan air lemon . semakin banyak anggota tubuh calon anggota baru yang mendapat luka rebusan , semakin tinggi jabatan yang akan dia dapat di geng tersebut
Bobs Ranking:

Dalam sebuah cerita yang dijalankan oleh ABC News, penulis dan peneliti Alexandra Robbins melaporkan bahwa ada jenis terburuk perpeloncoan yang terdapat di perkumpulan mahasiswa adalah "peringkat payudara." Dalam prosedur ini, para suster dipaksa berjanji untuk menanggalkan baju mereka dan bra di kamar dingin, dan kemudian berbaris berdasarkan ukuran payudaranya .
Elephant Walk:

Vermont melewati undang-undang anti-perpeloncoan pada tahun 1999 karena adanya insiden di Universitas Vermont di mana anggota tim pemain hoki memaksa mahasiswa untuk minum bir hangat sampai mereka muntah dan melakukan sesuatu yang disebut "elephantWalk", yang mengerikan.

Elephant WALK adalah
Menurut Urban Dictionary, ada banyak bentuk dari "Elephant Walk".

1) Sekelompok laki-laki berjalan dalam garis lurus, setiap orang meletakkan satu ibu jari di mulut mereka dan jempol lainnya di dalam anus laki-laki di depan mereka.
2) Sekelompok laki-laki berjalan dalam garis lurus memegang ke (tegak) penis dari laki-laki di belakang dan di depan mereka.
3) Sekelompok laki-laki berjalan dalam garis lurus memegang ke (tegak) penis dari laki-laki di belakang mereka sambil meletakkan salah satu ibu jari ke dalam anus laki-laki di depan mereka.
Paddling: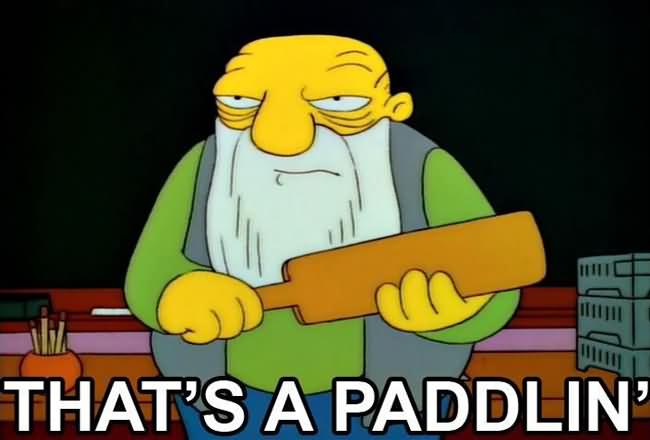 Mendayung adalah apa yang beberapa orang mungkin berpikir klasik. Meskipun itulah yang paling sering dikaitkan dengan tradisi kuno perpeloncoan. Mengayuh terdengar lucu, tetapi masih salah satu yang terburuk. Bahkan, banyak yang pergi ke rumah sakit dengan tubuh luka parah akibat tindakan kekerasan. kenapa bisa begitu ? , betapa tidak , ternyata cara perpeloncoan jenis ini adalah dengan mengumpulkan para mahasiswa/i junior, lalu membentuk lingkaran , kemudian satu sama lain mumukul bokong temannya secara terus menerus dan bergantian dengan tongkat kayu yang berbentuk seperti kayuhan dayung perahu. salah satu resiko minimal yang di dapat oleh para korban adalah , tidak bisa duduk akibat pembekuan darah yang terjadi di sekitar bokong
Galon Water Over Dosis:

Ketika seseorang pergi ke perguruan tinggi dan meninggal karena overdosis AIR, memang terdengar sangat konyol dan impossiblei. Tapi Ini adalah perpeloncoan di Universitas Negara Bagian New York. Pada bulan Maret 2003, Walter Dean Jennings III dipaksa untuk minum banyak galon air, sering ke titik muntah. dia berhenti minum air , namun sudah terlambat , ternyata dia langsung koma,lalu meninggal dalam perjalanan ke rumah sakit . setelah di Autopsy , ternayat otak korban telah bengkak dipenuhi olehair .akibat dari kejadian perpeloncoan ini 21 mahasiswa senior dihukum oleh universitas dan 13 diantaranya dijatuhi pasal pembunuhan yang terorganisir dengan ancaman hukuman maximal seumu hidup oleh pengadilan new york .
All the Alcohol You Can or CAN'T Take in 90 Minutes:

Adam Marszal dan Russell Taylor, dua mantan siswa di California Polytechnic State University, dijatuhi hukuman penjara setelah kegiatan perpeloncoan mahasiswa baru yang diadakannya menyebabkan meninggal seorang junior karena keracunan alkohol . Anak laki-laki, berusia18, meninggal setelah minum alkohol dalam jumlah besar dalam 90 menit. Saat dilakukan Otopsy , dari darah korban terkandung Alkohol dengan Kadar 60%
diatribe and invective for you:
Lain halnya memalukan dilaporkan oleh Alexandra Robbins adalah seorang wanita yang dipaksa untuk berdiri di bangku di depan seluruh senior kampus , kemudian para senior tadi memberikannya cacian , makian , hinaan , umpatan. memang perpeloncoan jenis ini cuma sedikit adegan kekerasan fisiknya , tapi bagi si junior tadi , kegiatan ini merupaan perpeloncoan yang sangat menyakiti si korban dari segi psikologis.
Trivia Questions: Choose Your Object:

Alexandra Robbins, lagi2 nih orang yang menceritakan kasus pepreloncoan paling menakutkan di kampus negeri paman sam , soalnya dia menulis buku "Membongkar gurita cikeas" eh salah yg bener "The Black Secret behind your university" , peloncoan jenis ini namanya "Trivia Question" cara nya kaya di film pengantin topeng , jadi intinya si senior dan junior kumpul membentuk lingkaran , lalu mereka bergantian memutar botol vodka yg ditaruh di atas meja , dan siapapun yang dituju oleh mulut botol vodka tersebut bebas melakukan apapun dengan alat-alat yang ada di gambar diatas.